As a vacation rental company, nothing excites us more than travel industry news, trends, and secrets. Sure, we technically have to stay up to date on the trends of the travel industry in order to provide optimal service to our guests, but needless to say, we very much enjoy keeping up to date on all travel secrets!
You know what we're talking about…the up and coming destinations that are not overcrowded with tourists, hidden festivities, local eats that you cannot find online, and our personal favorite, what time of year to book the most affordable travel.
After years in the vacation rental industry, statistics continuously show that the last week of August, in particular, August 23rd, and beginning of September is the best time of year to book flights at discounted rates (shh don't go telling everyone, this is our secret)!
That means it's time to start planning your St Louis in the fall and winter family vacations, wedding party getaways, and corporate retreats (did somebody say, Colorado?!).
If you're an adventurer and dreamer like us, you're probably already taking advantage of end-of-summer summer peak booking discounts (or dreaming about faraway destinations, at least). Searching your favorite commercial airline websites for the best flights, and mapping out the top-rated activities to surprise your friends and family with.
The last thing you need to worry about is where you're going to stay, so it's a good thing we have that covered!
With that being said…
Here is JZ Vacation Rentals recommended vacation rental for your St Louis in the fall and winter travel!
First of all, if you're coming to the Saint Louis area this fall and holiday season, there's going to be no lack of cultural events and funky festivals to check out. Autumn and winter in Saint Louis bring in visitors from all over the world to the midwest, and we understand why…
Whether you're in town for one of the 20+ festivals taking place during September, Oktoberfest happening in Hermann Missouri the entire month of October, the International Film Festival showing in November, or the hot chocolate festival and holiday river cruise coming in December, we have properties located all over the Saint Louis area that put you right in the middle of all the festivities!
If you truly want to be in the center of all the Saint Louis happenings, we recommend booking JZ Vacation Rentals Beautifully Designed Townhome Near Anheuser Busch!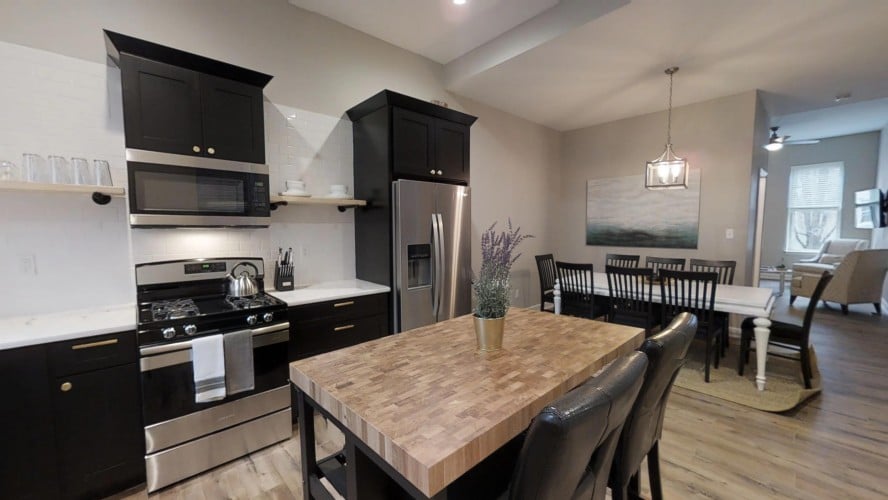 Book your vacation rental here!
Are you planning a gathering for this fall and winter? Perhaps a holiday with your family. Maybe a wedding party. Or even a work retreat.  Either way, this home is built to perfectly fit either situation!
This home is cozy enough for a small family vacation or a large group as it sleeps 10 comfortably! If your group happens to be bigger than that, you're in luck! JZ Vacation Rentals owns both the right and left side of the townhome, which are nearly identical, and you're able to rent out both sides.
Since they are identical, we'll stick to showing you the left side, but you can have a glance at the homes right side.
Welcome in!
This home is truly in the center of everything exciting happening around the Saint Louis area, with most attractions and festivals being less than a three-mile radius away! You're a quick drive (and in some cases a quick walk) from The Saint Louis Zoo, The Gateway Arch, Missouri Botanical Gardens, Busch Stadium, Forest Park, and The Fox Theater!
See for yourself!
When you arrive at this vacation home, there are two spaces on the parking pad, and plenty of street parking, so you won't be wasting your vacation time finding a spot!
When you walk into the home, you'll find a cozy living room, perfect for a relaxing moving night, or entertaining your friends and family!
The living room is just a few steps away from the kitchen, where you'll find a fully furnished kitchen, filled with all the appliances you would need to entertain, or even cook a full family meal!
Each JZ property undergoes a 150 point inspection that covers everything from a coffee pot in the kitchen to the highest quality white bedsheets. Take a look below at just a few things you'll be guaranteed to find:
Crib
Dishwasher
Kettle
Shampoo
High chairs
Laptop friendly workspaces
Makeup wipes
Iron and board
Children's dinnerware
See the full amenities list here!
If you're wanting to enjoy your vacation away from the kitchen, here are some of our favorite local restaurants and bars for food and drink that's right around the corner from this vacation rental:
Restaurants:
2438 McNair Ave
1831 Sidney Street
5257 Shaw Ave 63110
2900 Virginia Ave 63118
Drinks:
1000 Mississippi Ave
1923 Park Ave
2651 Cherokee St
1200 Russell Blvd
Once dinner is over, or you've come home after enjoying one of the many local restaurants Saint Louis has to offer and ready to hop into bed, you'll have a few rooms to choose from!
One the second floor, you'll find the first bedroom with a king-sized bed, and a second bedroom with two queen beds! The third bedroom is situated as a loft that also fits two queen beds. Take a look around for yourself and pick out your favorite room (or fight your siblings over which room you get…we get it).
To accompany each bedroom, you'll find three full baths!
Even though summer is coming to an end, we're thankful travel never goes out of season! Once you take advantage of the end of summer flight reductions, head over to www.JZVacationrentals.com for all your accommodation needs!
Want to take an immersive tour before booking? Head over to our virtual tours page today for an immersive guided tour of our homes! Happy traveling!